CBA Celebrates 10 Years
---
---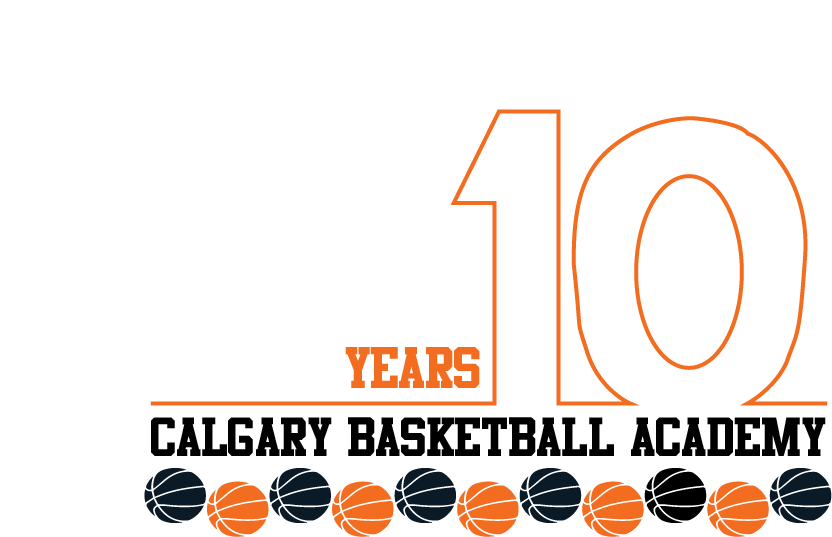 ---
It all started with a roadside sign for community basketball. In 2008, Carey Blaskin saw one while driving and asked his then-eight-year-old daughter if she wanted to try it out. She said yes, and "this is how our family got into basketball," says Carey.
Community basketball was a fun experience for both father and daughter as Carey volunteered to coach. He had coached prior to his first daughter being born, but it had been 5 years since he had done so. After a successful community season, they went to the next level and joined a basketball club—again, with Carey volunteering as a coach.
After two years at that club, in August of 2010, Carey decided to set out on his own with a different approach. He partnered up with Jay Villanueva, another coach and business associate and Calgary Basketball Academy (CBA) was born.
"I took my daughter and some of her friends, and we started our own team," he recalls. Carey believes it's important for basketball to be both fun and competitive to keep kids engaged, and that is the foundation from which CBA operates. CBA players train with kids their own age, and girls train with girls and boys with boys. It worked well for the team, and word soon got out.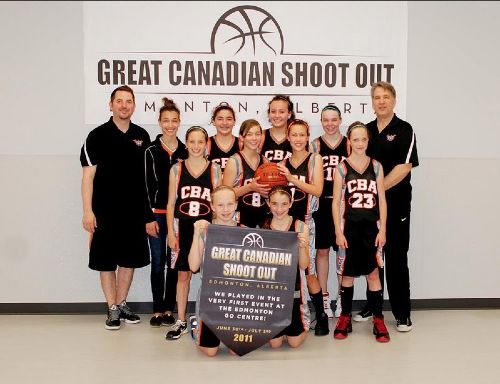 2011 - Girls U13 Cobra
(L-R) Back Row: Coach Carey, Lana, Zoe, Munro, Megan, Coach Andy
Middle Row: Arianna, Maria, Madison, Keara
Front Row: Renae, Jordan
Carey said CBA was one of the first clubs to ever start getting backpacks and bags for all their players. "Athletes want to feel like they are part of something bigger then them, to be part of something. We intentionally went out and bought 500 orange OGIO bags and gave them to every player who made one of our teams. It was a way of branding before social media."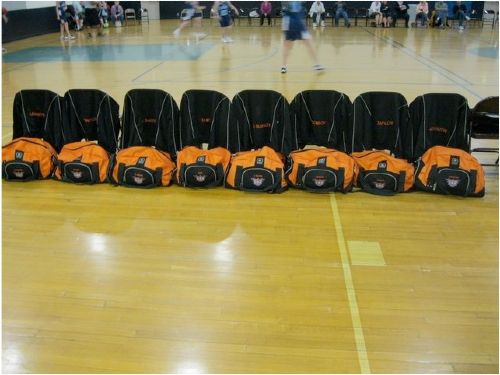 The legendary bags that swooped over the basketball community in 2011 - over 500 were given out in a 2 year span
By spring of 2011, they held tryouts and wound up with 70 kids—four teams of girls and three teams of boys. In 2012, that number jumped to 400. "We got overwhelmed," Carey admits. "We tried to accommodate everyone for two years, but it wasn't working. We had to make changes, especially since everyone involved was volunteering. We had to make it fun again."
So, in 2013, Carey cut the club back to a maximum of two girls' teams and two boys' teams for each age group (running from ages 9-18) to a maximum of 18 teams. CBA began with 20 athletes and now, in its 10th year, its club program has grown into one of largest boys' and girls' basketball clubs in Western Canada. The teams play competitively in leagues in Calgary as well as across Alberta, Canada and the U.S. In 2018, the club travelled to Spain to play.
| | |
| --- | --- |
| U12 players literally looking up to our U17 players after a big win in 2011 | CBA Graduate Hallie posing with Maren and Marcella in 2015 - 5 years later both Maren and Marcella still play CBA and Hallie , who started with us in the 8th grade, now plays University basketball |
Ultimately, CBA grew out of a love for basketball for Carey and his family, and it continues because of that passion. "We want our kids to be a part of something, not just the sport, but a culture and community," he says. "Our whole family is invested in CBA. My oldest daughter Jordan, now in University playing, is a coach for the club. We run it like a business, but treat it as a family. Because CBA is a family."